Welcome to Ann Turner Cook's Home Page


author of
the new Brandy O'Bannon Mystery
Shadow over Cedar Key
the sequel to
Trace Their Shadows


Ghost, Murders, and a Famous Baby Face...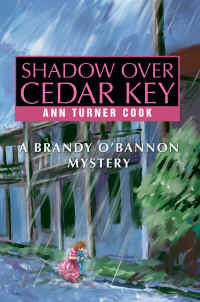 Concealed by the roaring winds of a savage hurricane, a brutal murder is committed in Cedar Key, and a young child disappears into the storm. Two decades later, three people arrive in the quiet Gulf Coast village looking for answers. One of them is Brandy O'Bannon, a reporter with an affinity for ghosts and a knack for unraveling mysteries. In Cedar Key, Brandy discovers a town that keeps its secrets.
The plot takes many twists and turns, but the biggest surprise of all may be the author of Shadow over Cedar Key: she's the world-famous Gerber Baby.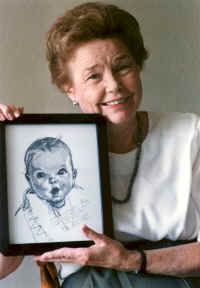 Ann Turner Cook's face may be as familiar to you as that of your own children. A charcoal sketch of 5-months old Ann has been the trademark of Gerber Baby Food since 1928, adorning uncounted millions of jars of strained peas and every other baby product produced by Gerber. Her cherubic face has been described as the most recognized trademark in the world.
Pleased as she is to be associated with babies, Ann Cook long ago established her own professional credentials. After a 26-year career teaching literature and writing to high school students, she has become an author herself. Her first novels weave her interest in Florida history into the intricate plotting of murder mystery.
In Trace Their Shadows, the first of the Brandy O'Bannon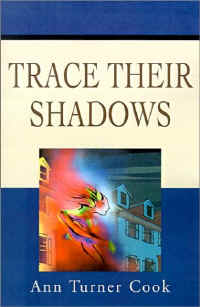 series, a deadly mystery swirls around an aging Florida mansion, and the curious young reporter finds more than she bargained for as she seeks to unravel the strange tale. Brandy is intrigued by rumors of a ghost haunting an isolated old mansion. One things leads to another, and Brandy stumbles on a 45-year old skeleton and a murder, but also finds unexpected romance. She encounters some eccentric characters as she works to solve the puzzle and to save the marvelous century-old house from developers.
Anyone who shares Cook's interest in Florida history and architecture will be captivated by her tales. And the mysterious skeletons certainly spices up the stories. The novels are set in the small, historic towns of Tavares, Cedar Key, and Homosassa, Florida.

"Trace Their Shadows is an entertaining mystery and ghost story that can't help but please. The plot is first-rate; the characters are people who are easy to relate to and care about; the action is nonstop; and the denouement is excellent." - Midwest Review

Reader's Comments:
"The writing is so intelligent, so truly delightful, it's a huge cut above the average published mystery.".... Nancy Means Wright, author of the Ruth Willmarth Vermont mystery series.
"In Trace Their Shadows an unsolved murder blends with a powerful and realistic theme: the loss of Florida's natural beauty and historic structures to make way for shopping malls and housing developments." Thalia Potter, Sierra Club activist.
"Trace Their Shadows is a must-read for mystery fans. Brandy O'Bannon and the house on the lake grasps our attention. The suspense never ends. I'm looking forward to the future books of Ann Turner Cook." ---Alvany Wilson, past Language Arts Supervisor, Hillsborough County, Florida, schools.
"Grab a copy of Trace Their Shadows, curl up in a hammock, and enjoy a ghost story with a twist." --- Patricia Bishop, current Language Arts Supervisor, Hillsborough County, Florida, schools.
"Shadow over Cedar Key was a pleasure to read. The layout and atmosphere of the Island Hotel were captured beautifully, and the story was most entertaining." - Tony Cousins, Island Hotel owner and manager, Cedar Key, Florida.

Online Purchasing Information
(click for direct links)
You can also order through your local bookstore or by calling toll-free 1-877-823-9235.

Comments for the author?