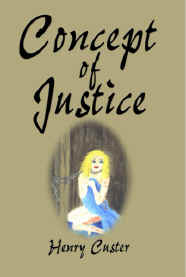 Concept of Justice
by Henry Custer
ISBN: 1-59129-X List price: 19.95
198 pages Paperback 6X9"
Published by Publish America
also available from Amazon.com!
" A certified Oklahoma Hillbilly, the eldest of eight children, father of two, born in Checotah, Oklahoma and now retired, living in Florida with Jody, my wife of over 50 years. Served with the US Air Force 1947-1954, assignment in 1953-54 serving on committee that wrote the JANAP (Joint Army, Navy, Air Force Procedure manual) for automated tape relay. (Cutting edge technology in teletype communications at the time). I didn't care too much for the military life but found that I loved writing."
Concept of Justice Synopsis
After confronting an intruder in his home, elderly Martin Lovett's world is dramatically shaken. Previously secret aspects of his life begin coming to light. His possible involvement in criminal activities of the past now lead investigators on a trail that threaten to destroy the life he and Cindy have enjoyed for over fifty years. His friends want to believe in him but even Cindy is plagued with doubts about the husband she has known and trusted for a lifetime.
Growing up during the war years of the forties, Marty lived through some pretty gritty times, leaving school at an early age, seeking adventure, finding trouble instead. In the meantime, Marty is plagued with memories of his past life. The deception of keeping his criminal activities from his wife is especially painful.
The present day courts finally resolve the issue with Martin Lovett. Will it relate to your Concept of Justice?
Coming soon: Dirt Floor is Custer's non-fiction memories of the heartaches and happiness of eight children growing up in rural Oklahoma during the great depression.
"What kind of floors do you live on; Carpet, Hardwood, or Dirt? Does it affect quality of life?
The poignant story of one boy growing up in the foothills of eastern Oklahoma, the first of eight children, loved and cared for by hard working, but uneducated parents. From the beginning of the Great Depression of 1929 to the end of World War Two in 1945, you will share the day-to-day hardships and occasional disaster, as well as the daily joy of just being themselves, as the author shares his worst and finest memories of childhood. Intermingled are the nightmares and stories related by a superstitious Grandmother who lived with the family for some time. The family survived as the 'Hired Hands' on several dirt farms until the advent of World War Two changed the very essence of their way of life."