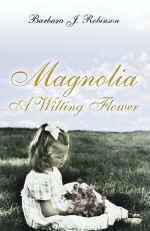 Set in the Strawberry Capital of the World and America's Antique City, Magnolia: A Wilting Flower by Barbara Robinson, is the story of a gusty girl who lost her father on Christmas Day in a little Southern town.
Get a glimpse of the past through this coming-of-age autobiographical novel set in the same school setting where Pistol Pete played basketball and was filmed. Share Magnolia's pain, heartache and her coming-of-age struggles and growing-up pains as she learns some of life's lessons the hard way. Education was important to Magnolia's father, and he left her a symbol of what education meant to him in the little, red-plaid booksack he bought for her. Magnolia is raised on fairy tales. Will Prince Charming come? The spunky youngster gets herself and her little sister into some pretty cementing situations. Even as a child, Magnolia wanted to become a teacher. Do fairy tales come true, after all?
Barbara J. Robinson's memoir of her own schooldays Magnolia: A Wilting Flower was recently published by Publish America. She teaches sixth, seventh, and eighth graders language arts and is certified to teach English through the high-school level. She is also certified in business education and special education/exceptional student education, varying exceptionalities. She has taken creative-writing and journalism classes during college. She is a member of the Florida Writer's Association (FWA) and a member of the Southeastern Louisiana Writing Project. Her story "My Special Mother" was published in Mothers of Writers by Publish America, and her story "Mother's Glimpse of Heaven" will debut in FATE Magazine. Her testimonial about using Chicken Soup books as classroom learning tools appears in Chicken Soup for the Teacher's Soul. In addition, her story "911: A Cry for Tolerance" along with six of her middle-school students' stories regarding the September 11 tragedy will appear in 911: The Day America Cried to be released this summer by WordWalker Publishing and Obadiah Press. Barbara's short story The Lord Had Something Better in Mind won first prize in fiction-writing competition at Southeastern Louisiana University and was published in their literary magazine, Gambit. Over the years, she has had numerous articles, essays, poems, and short stories published in local newspapers, magazines, and anthologies. She has four grown children, two boys and two girls, a stepdaughter, and lives with her husband, Scott, in Florida. Barbara was selected as Employee of the Month at Denn John Middle School last December. She has been nominated for Disney's American Teacher Award.
She loves children and animals and happily makes her home with her husband in Florida. Her new book Magnolia: A Wilting Flower will soon be announced to the book industry being listed with Bowker's, Books-In-Print, with wholesalers like Baker & Taylor, Brodart Company, and Ingram and is now available at Publish America as well as online bookstores such as Amazon.com, Borders.com, BN.com, Chapters.com, and through 50,000 corresponding bricks and mortar stores!